Conservative Books and DVD's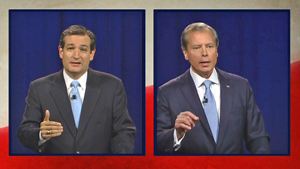 U.S. Senate candidate Ted Cruz (Texas) has taken a 5 point lead over Texas Lt. Gov. David Dewhurst in the Republican primary run off. Cruz now leads 49-44 in a Public Policy poll released last week.
"Ted Cruz looks like the new front runner in the Texas Senate race," said Dean Debnam, president of Public Policy Polling (PPP). "Not only is he ahead overall, but he's up by even more with the folks who are most likely to vote in what will probably be a low-turnout election. The momentum swing in this race over the last six weeks is seismic."
In May, Dewhurst was ahead 59-34%. The shift has been amazing – and encouraging to social conservatives in Texas.
Cruz is a tea party favorite and 40% of likely GOP voters identify themselves as members of the tea part movement. Early voting begins on July 23 in this key U.S. Senate race.
Support the work of GING-PAC in electing social conservatives like Ted Cruz to the U.S. Senate and House this November. Donate to our effort today!