Conservative Books and DVD's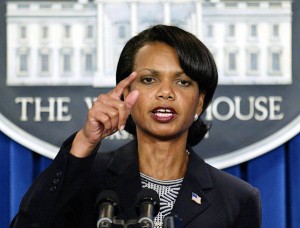 CNSNews reported today that Mitt Romney is considering Bush's Secretary of State Condoleezza Rice for a position in his administration.
Rice served first as Bush's national security advisor and later as Secretary of State.
She describes herself as "mildly pro-choice" and would not support outlawing abortion. She does oppose late-term abortion and parental notification, but this isn't a consistent pro-life position.
According to Rice: "Well, I don't spend my entire life thinking about these issues." You know, I spend my time really thinking about the foreign policy issues. But you know that I'm a deeply religious person and so, from my point of view, these extremely difficult moral issues where we have–where we're facing issues with technology and the prolongation of life and the fact that very, very young babies are able to survive now, very small babies are able to survive; these are great moral issues.
"What I do think is that we should not have the federal government in a position where it is forcing its views on one side or the other," said Rice. "So, for instance, I've tended to agree with those who do not favor federal funding for abortion because I believe that those who hold a strong moral view on the other side should not be forced to fund it."
While in the Bush Administration, Rice oversaw President Bush's policy of pushing for regime change and nation building – a policy that has resulted in spending billions and losing thousands of American lives fighting for Muslim nations like Afghanistan that have no real interest in democratic principles.
Pro-life legislator Henry Hyde was a critic of this Bush policy. In an encounter with Rice in 2006, he told her: "Fidelity to our ideals means that we have little choice but to support freedom around the world. No one with a heart or a head would wish it otherwise," Hyde continued. "But we also have a duty to ourselves and to our own interests, which may sometimes necessitate actions focused on more tangible returns than those of altruism.
"We must also be cognizant of the fact that a broad and energetic promotion of democracy may produce not peace and stability but revolution," said Hyde. "We can and have used democracy as a weapon to destabilize our enemies and we may do so again. But if we unleash revolutionary forces in the expectation that the result can only be beneficent, I believe we're making a profound and perhaps uncorrectable mistake.
"History teaches that revolutions are very dangerous things, more often destructive than benign, and uncontrollable by their very nature," Hyde said.
"There is no evidence that we or anyone can guide from afar revolutions we've set in motion," said Hyde. "We can more easily destabilize friends and others and give life to chaos and to avowed enemies than ensure outcomes in service of our interests and security."
This sounds like Obama's current policy: Destabilize our friends and give life and chaos to our enemies.
With Rice in a Romney Administration, things may not change much in our foreign policy – and his rumored move to pick Rice also shows that little may change in our domestic policies on abortion and other moral issues.
A Romney Administration may end up being an Obama-Lite Administration.
Read more on this at CNSNews.com.
Please support the work of GING-PAC in electing social conservatives to the House and Senate in November. Donate today!