Conservative Books and DVD's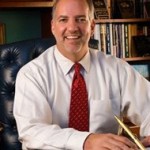 Republican Rep. Steve Southerland has just been endorsed by GING-PAC. He represents the Second Congressional District in Florida.
Southerland is a man of faith who has fought in Congress to protect the lives of unborn children as well as to fight against the redefinition of the traditional family by gay activists.
Southerland has co-sponsored or voted for legislation that prohibits taxpayer dollars from being used for abortion services and has voted to halt federal funding for Planned Parenthood.
In addition, he has co-sponsored a resolution that directs the Department of Justice to continue full enforcement of the Defense of Marriage Act (DOMA), which defines marriage as a one-man, one-woman union in federal law. It also protects states from being forced to recognize so-called "gay" marriages from other states.
According to Southerland: "As a man of faith, a husband and a father of four daughters, I believe that we have a moral responsibility to promote strong families, America's basic fundamental unit.  This commitment to faith, family and community serves as the compass for both my public service and my private life; and it is the driving force behind our fight for our North and Northwest Florida values.
"The issues of abortion and family planning are important to me. I am steadfastly committed to the belief that every innocent human life deserves to be valued and protected."
Learn more about Southerland's social conservative positions on his web site.
Support the work of GING-PAC in electing men and women like Steve Southerland to the House and Senate this November! Donate to GING-PAC today! Time is running out!