Conservative Books and DVD's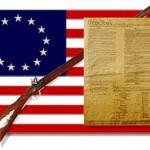 Alan Caruba with Accuracy in Media has recently posted an expose of President Obama's use of Executive Orders (EOs) to set up a system that allows him to declare martial law under a variety of pretexts.
On March 16, for example, Obama issued an EO that deals with National Defense Resources Preparation. This EO gives him potential control over food, livestock farming equipment, hospitals, water resources and much more.
This EO is supposedly designed to protect our nation from terrorists. But, who does the Obama Administration thinks are terrorists?
According to the Department of Homeland Security paper "Profiles of Perpetrators of Terrorism," a potential terrorist is:
– Americans who believe their "way of life" is under attack;
– Americans who are "fiercely nationalistic (as opposed to universal and international in orientation)";
– People who consider themselves "anti-global" (presumably those who are wary of the loss of American sovereignty, opposed to the United Nations, etc.);
– Americans who are "suspicious of centralized federal authority";
– Americans who are "reverent of individual liberty";
– People who "believe in conspiracy theories that involve grave threat to national sovereignty and/or personal liberty."
If you fit one of more of these definitions, then you're a potential terrorist. What will Obama and the Department of Homeland Security do to you if Obama gets four more years in the White House?
Read more on this at Accuracy in Media – and support GING-PAC's effort to elect social conservatives to the House and Senate in November!