Conservative Books and DVD's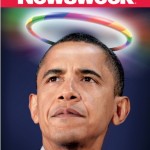 The feminists and gay activists have a good friend in Barack Hussein Obama. In fact, he's been described as the first gay president because of his total commitment to their political agenda.
A longtime goal of gay activists was to overturn the ban on homosexuals openly serving in the military. They accomplished that goal in Obama's first term.
Now, Secretary of Defense Leon Panetta has decided that women should have the "right" to die in ground combat operations.
David Horowitz, a former Communist revolutionary, understands the Marxist roots of feminism and the hatred feminists have for the military. Horowitz wrote an essay on the feminist assault on the military back in 1992. In it, he describes the ongoing attacks against it by Marxist feminists.
In his essay, Horowitz writes:
"Radical feminists are social engineers in the same way that Communists are social engineers. They deny that there is a human nature, and they deny that there is a female nature, that human biology in any way fundamentally influences who or what we are. The solution to all social problems, conflicts and disappointments in life is to manipulate laws and institutions so as to create liberated human beings – beings who will not hate, have prejudices, exhibit bad sexual manners, get into conflicts, or go to war. By changing institutions, especially powerful institutions like the military, and using their administrative power to brainwash people into adopting attitudes that are politically correct, these radicals believe that the problems that have plagued mankind since the dawn of creation will be miraculously cured."
The destruction of the military is almost complete – thanks to queer activists, feminists, and Obama.
Elaine Donnelly, head of the Center for Military Readiness, has published a 42-page report on the dangers of placing women in ground combat operations. According to Donnelly:            
"Following orders from President Barack Obama, lame-duck Defense Secretary Leon Panetta has recklessly announced unilateral nullification of direct ground combat exemptions that are important to the majority of military women who serve in the enlisted ranks. Secretary Panetta has excluded Congress and the American people from the decision-making process, and imposed a radical 'diversity' agenda on our military without disclosing the data and results of extensive research on the subject of women in land combat that the Marine Corps conducted last year. Congress should insist on seeing data gathered during the Marines' research, and conduct immediate oversight hearings before harmful policies imposed by the outgoing Secretary of Defense become de facto law."
Read more on this: The Diversity Cult's Attack on the Military; The Feminist Assault on the Military.