Conservative Books and DVD's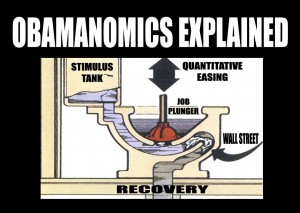 Barack Hussein Obama's form of economics, known as Obamanomics, works like this: Obama gives billions of taxpayer dollars to his favorite green energy ventures and to welfare bums and when the effort fails, he doubles down and gives more of our money away. The solution is always more spending and more taxing to fund his European welfare/green energy schemes.
The latest figures on how much Obama has spent of our tax dollars on welfare are staggering. According to a report from the Congressional Research Service (CRS), $1 trillion was spent on federal welfare programs during 2011 alone. This included $746 billion in federal tax dollars and $254 in state matching funds (also our tax dollars).
In short, the Obama government – using your tax dollars or those borrowed from China – could have sent a check for nearly $60,000 to every welfare recipient in the country with that $1 trillion.
And, who can ignore the latest Obama green energy failure. This time, battery maker A123 Systems was given nearly a quarter billion dollar "stimulus" grant in late 2009. The battery maker had vowed to create thousands of jobs when it got our cash. What happened? It created a grand total of 408 new jobs, amounting to $300,000 for every job "created." A123 is now bankrupt.
This green boondoggle isn't the only failure of Obamanomics. There are at least 50 green energy companies funded by Obama (with our money) that have either gone bankrupt or soon will be bankrupt.
One of the most recent companies to go bankrupt after receiving Obama money (ours) is Satcon Technology Corp. It received $3 million from the Department of Energy earlier this year. It filed for bankruptcy on October 17. It filed bankruptcy the same week that A123 filed for bankruptcy.
The Obama White House funneled $90 billion in government funds and tax incentives to "green" energy failures. Just imagine what he'll do with another four years in the White House.
All of this money has gone down a rat hole. Does he take responsibility for any of this? Of course, not. Everything is George Bush's fault.
Read more on Obamanomics at: Report: Enough Spent on Welfare Programs in 2011 to Write Every Poor Household a $59,523 Check; Quarter-billion-dollar stimulus grant creates just 400 jobs; http://dailycaller.com/2012/10/30/as-many-as-fifty-obama-backed-green-energy-companies-bankrupt-or-troubled
Let's FIRE Barack Hussein Obama on November 6 and bring back the free enterprise system.