Conservative Books and DVD's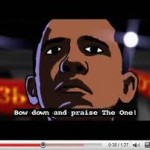 President Barack Hussein Obama clearly believes that he is "God" over the American people – and he still has millions of Americans who literally worship him.
The 2008 pre-election images of Obama portrayed him as a New Messiah who would lead Americans out of the recession and into a glorious new political reality. Obama's chief art propagandist, Shepard Fairey, deliberately used Soviet-style art to promote the "cult of personality" that is key to the promotion of a dictator.
Obama promised that he would fundamentally transform the United States once he was in office – and he's been wildly successful at it. But, what did his blind followers think he was going to do with America once he had control of the White House?
Did they want him to establish a totalitarian state where he would rule over them as a God?  
Did they realize he was going to gut our national defenses, create a government-run health care system, and force Christians to pay for abortions, contraceptives and sterilization as part of Obamacare?
Did they know that Obamacare will result in rationing of health care and force millions out of their current health insurance coverage?
Did they want him to betray Israel and foment the overthrow of non-Islamist governments in the Middle East?
Did they realize he was going to greatly expand the power and reach of federal government into every aspect of our lives?
Did they understand that he was going to rob from the productive to transfer their wealth to the indolent?
Did they welcome the destruction of the fossil fuel industry by Lisa Jackson, Obama's administrator of the Environmental Protection Agency? Jackson is using the power of the EPA to shut down our energy industry – threatening our lives with blackouts, high food prices, and a greatly reduced standard of living.
Did they accept the fact that he was going to rule by Executive Order and violate the separation powers outlined in the U.S. Constitution?
Did they know he was going to use AG Eric Holder in the Department of Justice to ensure that the 2012 election is open to fraud? Holder is preventing states from enforcing voter ID laws or purging their voter rolls of illegal and dead voters.
Did they know that Obama wants to turn America into a European socialist state – where central planning stifles creativity and economic growth? Europe is an economic basket case, but Obama wants America to follow it over the cliff.
The truth is that Obama thinks he's a secular God who has unlimited power to tell all of us how we are going to live. If he's re-elected, he will have no restraints whatsoever on his lust to rule over a totalitarian state. He must be defeated if America is to survive as a free and independent nation.
Additional Reading: Here's A Handy Reading List On Barack Obama – The Destroyer