Conservative Books and DVD's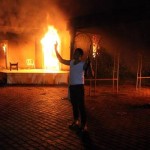 As more emails emerge about the terrorist attack on our Benghazi, Libya consulate and the killing of four Americans, we've just learned that Obama knew who attacked the compound within two hours after the event. Yet, for weeks he, Hillary Clinton, Susan Rice and other Obamunists have claimed that the attack was the result of a spontaneous protest against an obscure internet video on Islam.
For weeks, his press secretary has been telling lies to the White House press corps; Hillary posted an apology video on Pakistan TV; and U.N. Ambassador Susan Rice told lies on TV talk shows repeatedly during the past month.
Even as the new emails emerged, thanks to the work of honest journalists at Fox News, Hillary Clinton was claiming that the killing of our ambassador was still being investigated to find out who was responsible.
The latest emails that were published show that Obama and his national security staff knew that an Al Qaeda-linked group had claimed responsibility for the terrorist attack.
Obama Administration officials were actively monitoring the attack for hours – while two former American SEALS were still fighting for their lives – yet no help was provided to them.
The Obama Administration has repeatedly lied to the American people about this terrorist attack. They apparently let two SEALS die without any military assistance that could have been provided. And, they refused to even call this attack terrorist-motivated – when they clearly knew it was. They also knew there was no protest outside of the consulate and the attack was not motivated by an anti-Islam YouTube video.
Read more about this disgusting scandal at FrontPageMagazine.
Help GING-PAC fire Obama and his pro-Islamic allies in his administration on November 6. Donate today!
Additional Reading:
American Ambassador & Three Staffers Killed By Libyan Islamists
Obama Says Death Of Four Americans 'Not Optimal'
Obama Picks Anti-Israel Muslim Zealot To Represent U.S. At Human Rights Meeting
Campaign to save America from Barack Hussein Obama