Conservative Books and DVD's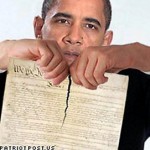 Long before he was elected President of the United States, Barack Hussein Obama had expressed his disappointment with the way the U.S. Constitution was written.
He's already placed two leftist women on the Supreme Court who agree with him: Elena Kagan and Sonia Sotomayor. Both believe that the Constitution is a "living document" that is to be reinterpreted by them to accomplish such political goals as "social justice" and "fairness."
In 2001, while he was a back bench state Senator in Illinois, Obama gave an interview on the Chicago station WBEZ-FM to discuss his views of the Constitution.
If you look at the victories and failures of the civil rights movement and its litigation strategy in the court, I think where it succeeded was to invest formal rights in previously dispossessed people, so that now I would have the right to vote. I would now be able to sit at the lunch counter and order and as long as I could pay for it I'd be OK
But, the Supreme Court never ventured into the issues of redistribution of wealth, and of more basic issues such as political and economic justice in society. To that extent, as radical as I think people try to characterize the Warren Court, it wasn't that radical. It didn't break free from the essential constraints that were placed by the Founding Fathers in the Constitution, at least as it's been interpreted, and the Warren Court interpreted in the same way, that generally the Constitution is a charter of negative liberties. Says what the states can't do to you. Says what the federal government can't do to you, but doesn't say what the federal government or state government must do on your behalf.
And that hasn't shifted and one of the, I think, tragedies of the civil rights movement was because the civil rights movement became so court-focused I think there was a tendency to lose track of the political and community organizing and activities on the ground that are able to put together the actual coalition of powers through which you bring about redistributive change. In some ways we still suffer from that.
Obama's statement about the Earl Warren Court not being radical, shows just how extreme he is in his anti-Constitutional views. He criticizes the Warren Court for not "breaking free" of the "constraints" placed in in the Constitution by the Founding Fathers.
He criticizes the Constitution for its negativity in preventing the federal government from doing things to its citizens. What he wants is an unrestrained Constitution and Supreme Court Justices who are also unrestrained – and who can tell the American people what the state or federal governments "must do on your behalf."
What he didn't admit was that he really wants an unrestricted Executive Branch that can tell Americans what they must or must not do. He's already show us that he's willing to FORCE Christian organizations to provide abortion, contraceptive and sterilization services to their employees through Obamacare.
What else will he force us to do in a second term? Buy Chevy Volts? Put Solar Panels on our roofs?
What Obama clearly wants is a federal government that has total power to "bring about redistribute change" in our society. He wants to seize money from the so-called "rich" and give it to the "poor," "illegals," or to union thugs to buy their votes. He's already doing a pretty good job at this.
If elected to a second term, Obama will have the opportunity to appoint as many as three Supreme Court Justices. Once this happens, the Court will be in liberal, anti-Constitution hands for decades to come. They will implement his plan to redistribute wealth by judicial edicts.
Imagine, for example, what will happen if he appoints his former regulatory czar Cass Sunstein to the Supreme Court? Mark Levin, writing in Liberty And Tyranny explains Sunstein's views on liberty and private property: "Sunstein believes that economic value and private property are not natural occurrences in human interaction but rather the outgrowth of government and law. Therefore, he and other legal 'realists' assert that government authority should be used to better exploit and redistribute wealth."
 ***
"Sunstein's 'realism' is not new. He creates the false choice between anarchy (where there are no laws protecting the individual, private property, and contracts) and tyranny (where the sovereign and the sovereign alone arbitrarily grants fundamental rights, including property rights). Having declared the sovereign paramount to God and nature, and having delinked liberty from property, the individual must rely on the government for his sustenance. Of course, history shows that man will starve and freeze if he relies on the government for his sustenance—and surrender his liberty as well."
Sunstein would use his position on the U.S. Supreme Court to seize private property and wealth to "redistribute" it to Obama's favored political groups. An Obama Supreme Court would also likely be used to punish his political enemies.
For further reading: Liberty and Tyranny: A Conservative Manifesto; First Principles | American Founding, Limited Government, Liberty