Conservative Books and DVD's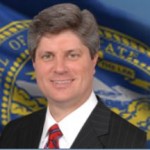 Rep. Jeff Fortenberry (R-NE) has announced that he is considering a run for the Senate seat that will be vacated by Senator Mike Johanns in 2014.
According to Fortenberry:
"Most importantly, today is a day to thank Mike Johanns for his distinguished career of service; he is a model public servant. Given this turn of events, I feel compelled to say I will consider a run for the United States Senate. I will listen to Nebraskans, explore the questions of how I might most effectively serve, and weigh the demands of such an endeavor with my family."
Fortenberry was recently in the news over Saudi Arabia's arrest of Ethiopian Christians who were seeking converts to Christianity. He told Fox News: "Nations that wish to be a part of the responsible nations of the world must see the protection of religious freedom and the principles of reason as an essential part of the duty of the state." Rep. Fortenberry sits on the House Caucus on Religious Minorities in the Middle East.
Rep. Fortenberry has also been involved in fighting for religious liberty that is threatened by Obama's Health and Human Services abortion mandate in Obamacare. On the day that the mandate went into effect (August 1, 2012), Fortenberry stood on the House floor and gave a speech defending religious liberty and freedom of conscience:
GING-PAC is strongly considering endorsing Rep. Fortenberry should he formally announce that he is running for Johanns' Senate Seat in 2014.
Please support the ongoing work of GING-PAC in funding the campaign efforts of committed social conservatives in the House and Senate. Donate to GING-PAC today!