Conservative Books and DVD's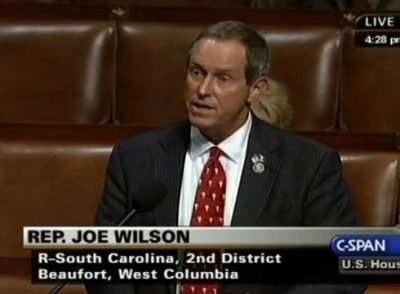 Government Is Not God Political Action Committee (GING-PAC) endorses Rep. Joe Wilson (R-SC) for re-election to the House of Representatives in November.
Wilson, as you may recall, gained nationwide notoriety during President Obama's 2009 speech to a joint session of Congress. During the speech, Obama made the claim that the Obamacare health care bill would not benefit illegal immigrants. Wilson spontaneously shouted "You lie" and the liberal media went into a feeding frenzy over it.
Wilson was right. Obama was lying. Two years later, the Obama Administration gave $28 million to community health care centers. Of that, $8.5 million was given to centers that serves migrant workers. As Wilson told Fox News in 2011: "It is clearly providing money that should be going to American citizens to illegal immigrants. It's even worse than I thought. They won't even ask for status."
Rep. Wilson is a courageous social conservative who as consistently fought for biblical principles Congress. He began his political career working on the staff of Senator Strom Thurmond. He also served in the Reagan Administration as Deputy General Counsel to the Secretary of Energy.
Wilson served his country in the U.S. Armed Forces and later as a member of the South Carolina National Guard. His four sons currently serve in the Armed Forces.
OnTheIssues has posted Rep. Wilson's voting record on a number of key issues of concern to social conservatives. He has been given a 100% rating by the National Right To Life Committee for his pro-life votes and a 0% rating from the National Abortion Rights League (NARAL). In addition, the anti-Christian group Americans United for Separation of Church and State (AU) gave him a 0% rating. That negative endorsement is a good indicator of Wilson's strong biblical convictions.
He and his family attend the First Presbyterian Church in Colombia, South Carolina.
Support the work of GING-PAC in electing men and women like Joe Wilson to the House and Senate in 2012. Donate to GING-PAC today!