Conservative Books and DVD's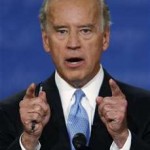 Mafia hit man Frank Sheeran claimed in death-bed confession book I Heard You Paint Houses that he was instrumental in getting Joe Biden elected to the U.S. Senate. Sheeran was a one-time Delaware mobster who worked closely with the Teamsters Union.
When he was president of Teamsters Local 326 in Wilmington, Delaware in 1972, he says he was visited by a very prominent lawyer who was "very big in the Democratic Party" in Delaware.
This lawyer asked for Teamster help in preventing the distribution of a paid Republican political ad that was to be inserted in Delaware-wide newspapers. It was to run for a week and expose the campaign misrepresentations made by the Democratic challenger to the Republican who held the Senate seat.
Sheeran promised that he "would hire some people and put them on the picket line" to keep the papers from being delivered all week.
According to Sheeran, "The day after the election, the informational picket line came down, and the newspaper went back to normal and Delaware had a new United States Senator." This was Joe Biden.
Sheeran noted that after this election, "You could reach out for him, and he would listen."
Vice President Biden will be debating Rep. Paul Ryan this Thursday evening. It would be interesting if Ryan brought this up during the debate, but don't expect that to happen.
What Ryan should definitely bring up is Biden's comments in this latest video:
Or, Ryan could also bring up Biden's string of lies about his academic credentials: Great Moments In Vice Presidential Lying.