Conservative Books and DVD's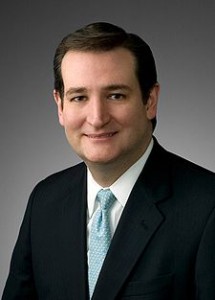 The leftwing media hates newly elected Texas Republican Senator Ted Cruz – and for good reason. He's a firmly committed Christian and social conservative – and a GING-PAC endorsed legislator.
He's not in the Senate to be a RINO or a lite version of a Democrat. He's in the Senate to make a real difference — not to be liked by liberals or "moderates."
Liberals in the media are going crazy over Senator Cruz because they know he is a threat to their socialist causes and their fake narratives about Republicans as racists, bigots, or Neanderthals .
As Mike Needham of Heritage Action has noted: "Senator Ted Cruz came to Washington to advance conservative policies, not play by the same old rules that have relegated conservatives, and their ideas, to the back bench. It should come as absolutely no surprise the Washington Establishment – be it the liberal media, entrenched special interests or even wayward Republicans – are now attacking him in the press for following through on his promises."
Wacko MSNBC commentator Chris Matthews has already compared Sen. Cruz to Senator Joseph McCarthy who was vilified in the 1950s for daring to investigate the real Communist subversion that was taking place in the federal government during the 40s and 50s.
Watch the liberals in Hollywood begin a sustained attack on Senator Cruz just as they did on Sarah Palin. They're going to do the same thing to Senator Marco Rubio (R-FL). Both Cruz and Rubio are Cuban-Americans – and they committed the unpardonable sin: They've refused to embrace socialism or the victim ideology so loved by the liberal establishment. They actually believe in the free enterprise system and know that we get our rights from God, not from the Obama government.
Read more about Senator Cruz: Conservative Leaders Defend Sen. Ted Cruz for Rocking the Boat.