Conservative Books and DVD's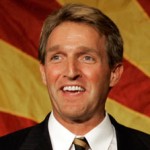 Arizona Rep. Jeff Flake, a GING-PAC supported candidate for the U.S. Senate easily beat his GOP rival Wil Cardon in yesterday's primary. Flake beat him 69% to 21%.
Flake has a lifetime American Conservative Union rating of 96.73% and is a strong social conservative. He has served six terms in the House of Representatives.
In the November election, Flake will face Democrat Richard Carmona, who formerly an "independent" who served as Surgeon General in George W. Bush's Administration.
Learn more about Jeff Flake on his campaign web site.
Support the work of GING-PAC in electing men and women like Jeff Flake to the Senate and House this November. Time is short. Donate today! Help us defeat Barack Hussein Obama with our newspaper ad campaign.