Conservative Books and DVD's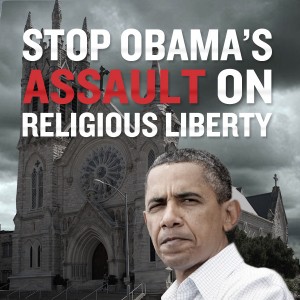 A message from William J. Murray, GING-PAC Chairman
President Barack Hussein Obama is the most viciously anti-Christian and anti-Jewish person ever to occupy the White House. And, we must defeat him in November
Why do I say this? Because Obama has repeatedly enacted policies, signed Executive Orders and pushed laws that violate religious liberty and threaten the free speech rights of religious Americans. Except for Muslims! Islamists seem to have a special place in his hardened heart.
His recent attack on religious liberty through Obamacare is the most obvious assault on the First Amendment. Through Obamacare, he has mandated that religious organizations must provide contraceptive, abortion and sterilization services to their employees! It doesn't matter that many of these Jewish or Christian-owned businesses and colleges oppose abortion on demand, handing out condoms or providing sterilization as a "health" service.
GING-PAC newspaper ads are running now to help defeat Obama.
Read about our ads here!
Obama doesn't care. He is willing to use the full force of the federal government to force these religious enterprises to support the abortion industry. The abortion mandate wasn't even in the original bill that was signed into law. It was deliberately mandated by HHS Secretary Kathleen Sebelius with the stamp of approval of Barack Hussein Obama.
But, it's far worse than just Obamacare. Obama is carrying on what amounts to a Jihad against non-Islamic religious groups – both Jews and Christians.
Remember what Obama told his supporters in April of 2008: That Christians "cling to guns or religion" and have an "antipathy to people who aren't like them"?
Read the rest of this story: Campaign to save America from Barack Hussein Obama.