Conservative Books and DVD's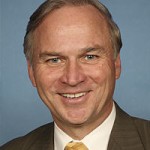 Virginia Rep. Randy Forbes has repeatedly earned the support of GING-PAC over the years he's served in Congress. We once again endorse him for re-election this November to serve the citizens in the 4th Congressional District of Virginia.
Forbes is the founder of one of the most important caucuses in Congress: The Congressional Prayer Caucus. He believes in the power of prayer and so do dozens of his fellow legislators.
Rep. Forbes is chairman of the House Armed Services Readiness Subcommittee and is a tireless worker on behalf of our military. He also serves on the Judiciary Committee's Crimes Subcommittee.
He is a member of the Congressional China Caucus and introduced a bill to combat Chinese espionage against the U.S.
During the summer of 2012, Forbes was honored by the American Conservative Union with its "ACU Conservative" award. The award goes to a legislator who scores 80% or higher on the ACU's ratings of Congress. He achieved a 94% conservative score.
His standing as a strong social conservative is well-established.
Rep. Forbes is a committed Christian who attends Great Bridge Baptist Church in Chesapeake, Virginia and has taught Sunday School in his church for more than 20 years.
Watch his 2009 video on the importance of recognizing our nation's Judeo-Christian roots:
Support the work of GING-PAC in electing men and women like Rep. Forbes to serve our nation in the U.S. Senate and the House of Representatives. Donate to GING-PAC today!