Conservative Books and DVD's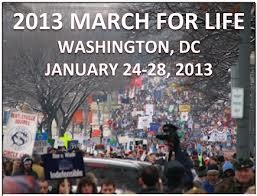 Today, hundreds of thousands of pro-lifers are in the March for Life in Washington, D.C. to stand up for the right of unborn children to be free of the curse of abortion.
Several GING-PAC endorsed U.S. Senators recently sent out tweets to mark the 40th anniversary of the infamous Roe v. Wade decision. This Supreme Court ruling legalized abortion on demand as a "privacy" issue. The decision has resulted in the killing of an estimated 50 million unborn babies since then. Only Mao Tse Tung has killed more human beings – an estimated 60 million.
Here are their tweets:
Senator Jim Inhofe (@InhofePress):   An est 1 million attended Obama's 2nd inauguration. Since #RoevWade, 1.2 million lives have been lost per year. #perspective 
Senator Ted Cruz (@SenTedCruz):   40 years of Roe v Wade. RT if you agree no right is more precious than right to life & we should protect it: http://www.cruz.senate.gov/record.cfm?id=339322
Senator Deb Fischer (@SenatorFischer):  On this 40th anniversary of the Supreme Court's Roe v. Wade decision, I proudly reaffirm my support for pro-life policies.
Senator Dan Coats (@SenDanCoats):  On the 40th anniv. of Roe v. Wade, let's remember the millions of innocent lives lost #prolife
Senator Marco Rubio (@SenRubioPress):  Senator @MarcoRubio Comments on the 40th Anniversary of Roe v. Wade: http://1.usa.gov/Vi6JWH
Senator David Vitter (@DavidVitter):  On this #roe40 anniv. I pledge to continue my commitment to #prolife values & to stand up for the women & unborn children of #Louisiana.
Senator Roger Wicker (@SenatorWicker):  Today marks the 40th Anniversary of Roe v. Wade. It's a somber reminder, but I'm encouraged the #prolife movement continues to save lives.