Conservative Books and DVD's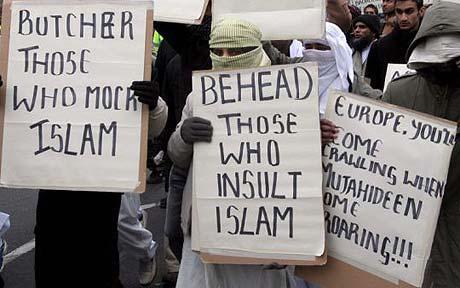 The slobbering Obama media didn't pick up on a key statement Obama made to the United Nations on Tuesday. But why would they? It reveals who he is.
Obama told the assorted dictators and Islamist fanatics that "The future must not belong to those who slander the prophet of Islam." What?
Apparently, in Obama's Marxist/Islamist-soaked brain, anyone who tells the truth about Mohammed's bloody reign of terror, his killing of men, women and children in Jihad, and his teachings about conquering the world – don't deserve a future. What does he expect these people to do? Just shut up or risk having their heads cut off? Will he work to silence them?
Obama seems to be saying that the Christian and Jewish critics of Islam and Mohammed don't deserve First Amendment protections in America. Does free speech cease to exist if the speaker is criticizing Islamist terror?
Obama has been vocal in condemning the obscure anti-Islam trailer that appeared on YouTube several weeks ago. He's even tried to get the video removed from the internet. Yet, he's been silent about the display of "Piss Christ" in a New York City gallery. Remember this? A self-proclaimed "artist" put a crucifix in a container of urine and called it art. He also got a check from the National Endowment for the Arts to do it. What's Obama said about that disrespectful display? Crickets chirping.
Obama's outrage over offensive statements about "religion" only seems to involve Islam. He has no similar outrage when Christians and Jews are maligned, beheaded, or burned alive in churches or synagogues by Islamist murderers.
He must really, really love Islam. And, remember, those of us who slander Islam, don't have a future in his world. What sort of world will he give us in four more years in the White House?
Work with GING-PAC to fire Obama and his pro-Islamist government in November. Donate today!