Conservative Books and DVD's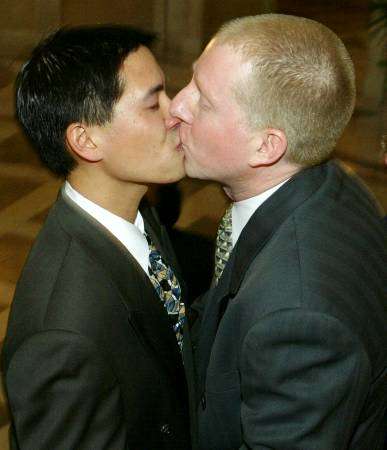 Homosexual activist Barney Frank (D-MA) says the Democratic Party's Platform Committee has drafted a plank that supports gay marriage. The vote was unanimous among the 15 members of the committee. He's thrilled about it — but it may not turn out so well for Democrats actually running for office in November.
A recent Gallup poll shows that Democrats support gay marriage by 65% to 34% who oppose it.
In addition, Obama's support for gay marriage has impacted the way independents will vote this November. One Gallup poll found that 23% of independents and 10% of Democrats will be less likely to vote for Obama because of his gay marriage stand.
Gallup's Jeffrey Jones noted: "Those figures suggest Obama's gay marriage position is likely to cost him more independent and Democratic votes than he would gain in independent and Republican votes, clearly indicating that his new position is more of a net minus than a net plus for him."
According to one GOP strategist, the issue of gay marriage will be a significant problem for Democrats running for Congress. He noted: "First, it shows a further distraction by national Democrats when it comes to jobs and the economy, and that's where Republicans have a laser-like focus. Second, it creates a very uncomfortable intraparty dynamic for Democrats who have not endorsed same-sex marriage because they recognize the political peril this issue presents in their respective states. So Republicans are content to watch this very uncomfortable dynamic play out and distract Democrats in the weeks ahead."
Democrats, who are so in love with the idea of "gay marriage," may be running off the cliff like lemmings – a positive sign for social conservatives.
Republicans – especially social conservatives – should have no fear of discussing the destructive consequences of gay marriage on families, children, and the future of our nation.
The majority of Americans still instinctively know that marriage is a union of one man and one woman. It's not men "marrying" men or women "marrying" women – or polyamory (what amounts to an institutionalized sex orgy including both men and women). And, of course, there's "transgender marriage," involving men and women who have had, or are going to have so-called "sex change" operations. Once "gay marriage" is widely accepted in society, there's no limit on what sort of bizarre relationships will be pushed as "marriage."    
Read more on this at The Washington Examiner.