Conservative Books and DVD's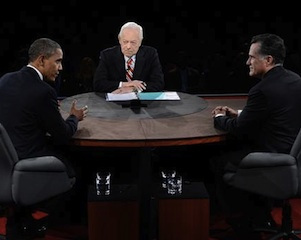 Last night's final debate between Mitt Romney and Barack Hussein Obama displayed a Commander-in-Chief who had no teleprompter, no national security successes and just another set of memorized lying talking points.
As Daniel Greenfield with FrontPageMagazine noted:
"The United States has had good presidents and bad, but it has never had a leader who came to a debate on national security with so much insecurity. It was a small petty man who sat on the other side of the screen, alternately smirking and scowling, grinding his teeth and launching attack after attack instead of finally taking the opportunity to set the record straight with the American people.
"Barack Obama came to the debate with a roster of prepared speeches, few of them about foreign affairs and most of them about the economy."
Obama clearly has no clue about foreign policy or what it takes to be Commander-in-Chief of the most powerful military force in the world. And, during the debate, he confirmed it by saying that the Navy doesn't need any more battleships because they had become as outdated as horses. According to Obama, the submarine and aircraft carrier had made the Navy destroyer as outdated as the bayonet and warhorse. This is absolute nonsense. It is obvious that this Marxist community organizer is in over his head.
Of course, Barack Hussein Obama is systematically gutting our military. He plans on firing 50,000 soldiers, 10,000 airmen, and 20,000 Marines. They can join the ranks of the unemployed and our world will become even more dangerous.
Obama claimed that his Middle East policy was "one thing Americans should be proud of." Really? Every Muslim nation that Obama has helped overthrow is becoming an Islamic dictatorship. This includes Tunisia, which Obama thinks is a success story. Libya is a disaster. Egypt is now run by the Muslim Brotherhood. Afghanistan will eventually return to Taliban control.
Every time Obama "helps" a Muslim nation, it becomes a Muslim Brotherhood nation. But, maybe that's his real goal.
The one real democratic movement that occurred in Iran in 2009 was ignored by Obama. He watched on the sidelines as thousands of pro-freedom Iranians fought for independence from the Islamic tyranny. He did nothing. Note the pattern: He helps install Islamic tyrants and ignores genuine seekers of freedom.  
Oh, but not to worry. Obama is engaged in "nation building at home." In other words, he's busy destroying the free enterprise system, enriching his union buddies, and borrowing money from China to fund his green energy cronies and their wasteful boondoggles. His "nation building at home" scheme is destroying our energy industry through the rogue EPA and returning us to an agrarian society.
And, guess who has endorsed Obama for re-election: Hugo Chavez, Vladimir Putin, and Fidel Castro. What does that say about Barack Hussein Obama's politics?
Read more at: Insecure Obama, Insecure World; Debate Transcript; President Obama's Top Ten Apologies