Conservative Books and DVD's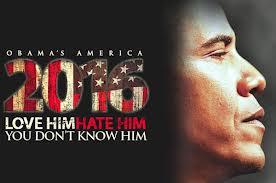 Dinesh D'Souza's expose of Barack Obama, "2016" is currently the second biggest money-maker per theater in the U.S. Currently, only "The Expendables 2" is ahead of it.
It opened in one theater last month in Texas and will be in 800 theaters around the nation by this weekend.
The film is based on D'Souza's book, The Roots Of Obama's Rage, which describes Obama's anti-colonialist worldview – based on the socialist ideology of his dead father, who worked in the Kenyan government. D'Souza uses Obama's own words from his autobiography, Dreams From My Father to prove his point.
But, there's more in the film than just an expose of Obama's hatred of Western Civilization. There's also an important segment on Barack Obama's relationship with Frank Marshall Davis, a member of the Communist Party USA (and black racist) who mentored the teenage Barack in Hawaii. Davis was a drinking buddy of Barack's white grandfather and had a notorious past as a Communist and black poet in Chicago years before. Davis was on the FBI watch list for years for his subversive activities.
D'Souza's new book, Obama's America: Unmaking The American Dream describes Obama's plan to continue his effort to destroy America if he is re-elected.  
To learn more about Frank Marshall Davis, read Paul Kengor's new book, The Communist: Frank Marshall Davis — The Untold Story Of Barack Obama's Mentor.   
Obama's political views were formed by his anti-colonialist father, a hard-core Communist and the black liberationist Jeremiah Wright — and, of course, his Marxist mother Stanley Ann Dunham.